At NÜA, imagining is a thing of the past and creating is a thing of the present.
Discover our space
Future and present in a single space
A caress for the eyes
PROJECTBCN has been the studio in charge of designing NÜA Smart Restaurant, a sensitive space for an avant-garde concept.
Aware that technology has completely changed our way of being in the world, we have designed with ProjectBcn a unique place that will change the present reality of people.
An interior design concept with its own style that has involved not only learning from technology, but making it our ally, closer and more accessible. Discover it!
Focus of all eyes
Our advanced restaurant is a smart place where thanks to our surround technology everything is possible. Wherever you look, our space is prepared to stimulate your senses and take you into a new and surprising world where everything combines perfectly.
Our chameleonic atmosphere coexists in perfect harmony with our technological devices and our interior design inspired by the most technological nature. A changing environment that will not leave anyone indifferent. Colors, music, food, art, devices, everything attracts attention.
Everything you can imagine and more
A restaurant? a cafeteria? a vermouth store? a cocktail bar? a store? an art gallery? an e-commerce? Everything you can imagine and much more.
Thanks to our domotic systems and artificial intelligence our space and its elements change naturally according to the time of day and your needs.
We transform as if it were magic the environment and communication to connect people and generate new experiences and different emotions in a single space. Come and meet the chameleon inside us!

NÜA Smart Restaurant was born to change the way you understand things and to make the most important moments of your life unforgettable. A birthday, good news, a farewell? any special moment becomes unforgettable with us! Surprising your guests is not an easy task, but at NÜA Smart Restaurant everything that seems impossible is possible thanks to our infinite adaptation possibilities.
Contact us and discover all that we can do for you to turn your event into a technologically memorable and deliciously unforgettable experience.
In a mostly anthropocentric world, we want to contribute to improve the quality of life of our pets by letting them be part of their owners' experience with a specific proposal for them, our Smart Pet Experience! An experience specially designed for them with amenities, specific natural gastronomy, watering points, and much more. We know that your pet is part of your family and that without it nothing is the same.
Take the leash, tell your pet the good news and go out to eat the world and our Smart Food. Eating smart is everyone's right and of course your pet's. Living together with other diners and food safety is an absolute priority, which is why we have developed cleaning and disinfection protocols, restricted access areas and created rules to maintain food safety standards. Find out the rules and restrictions for an unforgettable Smart Experience for everyone.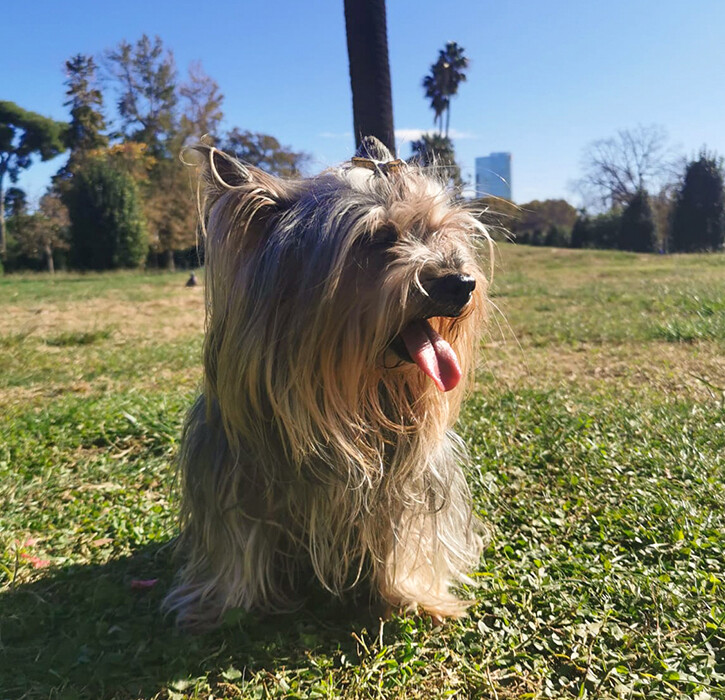 What you want, when you want, how you want, where you want and who you want. It's that easy! Our space is designed so that you can do what others can't and that your professional events stand out from the rest. We offer you a multidisciplinary and versatile space where everything is possible.
The sound, the light, the communication, the presentation, the reception, everything is adapted to your needs thanks to our amazing domotic system that allows you to change the atmosphere of the place in seconds and to project in all the digital media what you decide.
In addition our system of artificial intelligence allows you to take to the maximum level the image of your brand personalizing everything what you wish by zones, areas or schedules. If your company has no limits, neither do we. Through our Smart Tables you can develop software for your guests and/or clients to interact and get involved in your event with possibilities that you would never have imagined.
An unprecedented technological and audiovisual deployment at the service of your company! And since we know that the best way to conquer your guests and/or clients is through the palate, we offer you our exquisite gastronomic proposal or if you prefer we can adapt it to your needs, we are specialists in meeting the needs of the most demanding and perfectionist companies. Take off for success with us!
For your product or service
We have created NÜA Smart Marketing, an innovative and revolutionary way to position your brand in the heart of the customers. Our concept offers previously unexplored opportunities for communication and brand positioning and guarantees you maximum visibility and impact.
We create a respectful and non-invasive atmosphere within a new commercial environment that will make your brand stand out from the rest. Whether it's to present your product, service or project or to make your brand part of our Smart World, our space is more than what you were looking for.
We invite you to travel different paths to reach a different destination more avant-garde, with greater impact and better positioning. Contact us and we will inform you of everything that NÜA Smart Marketing can do for your brand.


We believe that the digital revolution is the most important transformation that the culture has gone through in the last decades and opens up infinite possibilities of expression and exhibition.
Artists have changed the way they create, access and distribute knowledge. Through our concept "Smart Tech culture & Art" we want to demonstrate that culture, creativity and technology can be merged and so bring closer the empathy and emotions of artists. Just as important is the medium in which artists show their work, as is the influence that technology has on their theses and on what they decide to express.
Thanks to our innovative platform, artists can encourage interaction with their work and create greater involvement in their expressions.